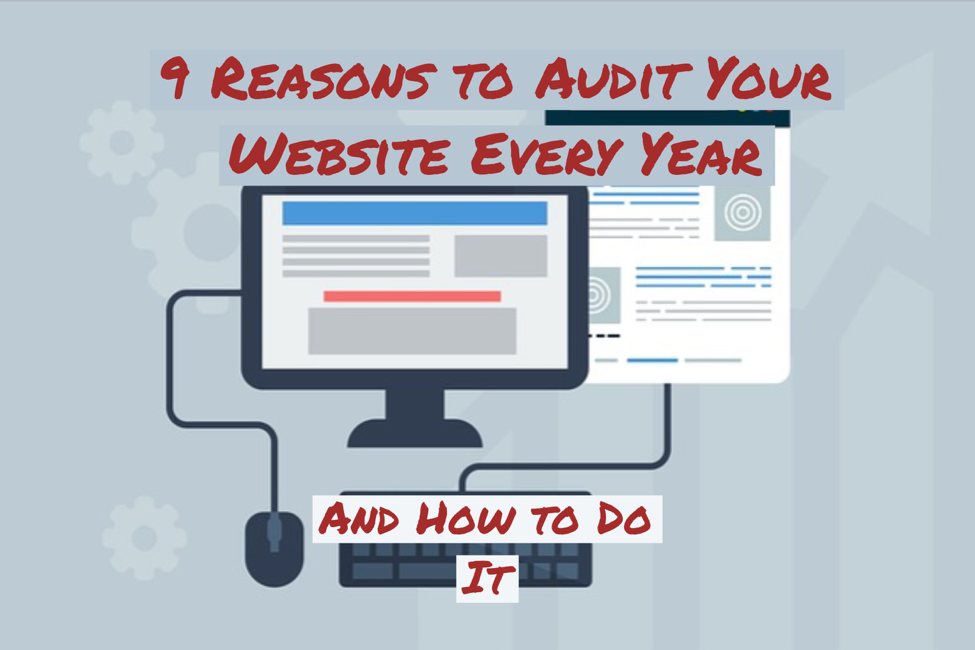 15 minute read.
It's a common bad business move.
You invest tons of money into your website. You lovingly pick the designs and agonize over the photographs. You hire copywriters to fill it with content. You may continue filling it with content yourself by blogging, or you may pass that off to writers too.
[Insert Table of Contents Shortcode]
Either way, you believe the website is a done deal.
Fix it and forget it. Maybe you worry about improving its visibility in the search results, aware of its potential to bring you a lot more money than virtually any other marketing method. But you stop thinking about the site itself, unless it breaks. You never think to audit it.
Content, Not SEO
This isn't about obtaining an SEO audit from your chosen marketing agency. That's something you need a professional to do. And it involves evaluations on and off-site.
The type of audit a business owner needs to make can only be done by someone who is intimately familiar with the business' methods, products, philosophy, and current culture. It involves going through your site page by page, reading what's there and noting any problems.
It's tedious, but there are good reasons for it.
#1) You need to know what's there.
You'd be surprised how often people don't have any idea what is on their website. I once had a client who got furious with me for some content I created.  "We don't ever want to mention pricing," he insisted.
I was terribly confused. I asked, "Are you not aware you've listed prices in three different other places on their site, right in the core pages?"
The clients were not aware.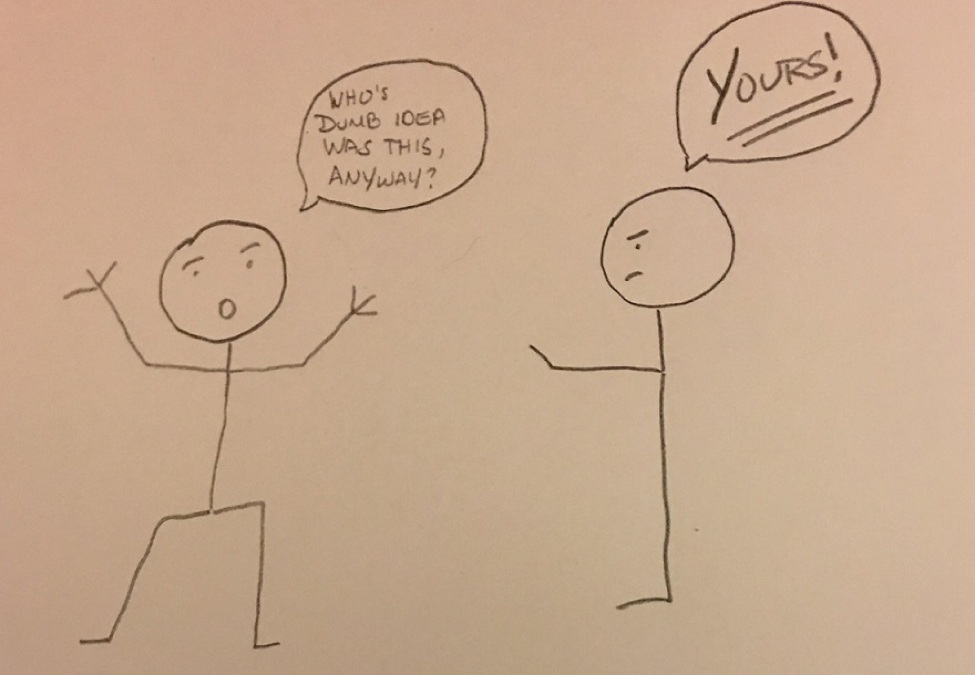 It's only a giant cliche because it's so gosh darn true.
And if you are not aware you'll be working at cross purposes with yourself. The content decisions that made sense to you two years ago aren't necessarily going to make sense to you today. And it's very easy to forget what's there because you are busy running your business. By auditing your site you can find problems like pricing you didn't want to report, and eliminate them.
#2) Your business may have changed.
In fact, it probably has. There's a good chance you've dropped some products or services because they weren't very profitable. Or have added products or services customers would really want to know about. 
Unless you've been staying right on top of your website, it may be missing information about locations you've opened or team members you've hired (and fired). You may have earned certifications, awards, or media mentions it would be worth adding. 
There are people out there whose only peeve with businesses, ever, is failing to give proper information so they can plan and adjust. If your site's out of date you're setting yourself for a 2-star review later down the line. Don't be that business. 
#3) Technology has probably changed.
Just yesterday everyone was freaking out over the need to have video content. Now, nearly everyone has it. It's not news anymore. 
Today, the technology you need to be considering is voice search. And chatbots. And the need to make sure your site has the secured https:// designator that tells visitors it's a safe site. 
Tomorrow it's likely to be augmented reality. And after that? Who knows. There might be a time where you're setting up VR storefronts and placing your content into entirely different formats. Until then, there's no excuse for letting your website get out of date.
#4) You may have content you can condense, expand upon, remove, or improve.
The content that worked yesterday doesn't always work today either. Rereading every last web page and blot post may sound daunting, but it will help you develop a cleaner, more powerful site that serves as a marketing tool instead of as an outdated electronic brochure.
Condense shorter pieces of content into longer, more meaningful pieces of content. 
Expand and improve upon content that is weak or thin. If you had a copywriter write it, could you add some more insight as a subject matter expert? If you wrote it, could you provide more examples, come up with more resources to share? Can you add pictures, diagrams, a podcast, a video? Can any of it be repurposed into infographics, or chopped back up into social media posts?
Remove content that doesn't serve people. Look, nobody is going to read "10 Reasons You Shouldn't DIY Your Electrical Work." That's a solution for a problem that doesn't exist. Nobody who would be dumb enough or skilled enough to DIY their electrical work is searching for an electrician, and those who are already know why you shouldn't DIY.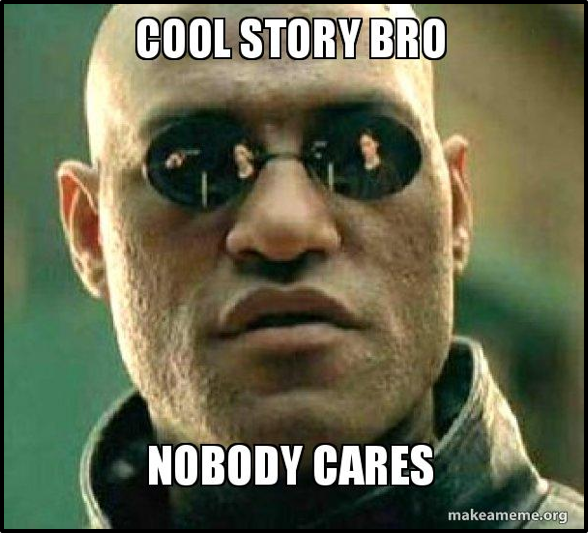 And since it fails to pass the "who cares," test, it's not getting any votes in the way of backlinks or shares on social media. It's just taking up space and making you look self-serving and clueless. 
So get rid of that. Instead, how about an in-depth article with a table of contents that tells homeowners what they should watch out for when buying an older house? That's a problem people have. 
And sure, if you're doing a thorough job of it you don't get to use the electrician keyword 30,000 times. 
You might even have to interview, or want to interview, other professionals who might contribute. But you'll get way more customers for your effort, and way more back links, too. That means more visibility, higher conversion rates, and more customer trust, which is what you were trying to accomplish all along. 
#5) It can help you figure out what's making your customers peace out.
Every website comes with a bounce rate. It's unavoidable. Some people will show up, determine that they haven't found what they needed, and leave.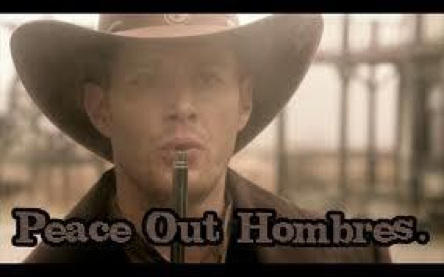 But if your bounce rate is really high and your conversion rate is really low, the problem is not just some whim of fate. The problem is somewhere on your website.
It could be content that loads too slowly. It could be content that's useless (see above). It could be copy that's too pushy, or which doesn't make enough of a case for doing business with you.
The exercise of looking at your website with a fresh eye can help you start to pinpoint any or all of these problems. And if you don't know how to fix them, you can at least discuss these issues with a professional who does. 
#6) It can help you figure out what content needs to be added.
There could be some glaring gaps. Does your content answer your customer's twenty  most frequent questions? Does it explain what's going on when they make their twenty most frequent complaints? 
Are there routine problems your customer has that you can solve or help with, even if they aren't directly related to your business? 
Are there issues that have cropped up for your customer base over the past year, or changes that affect their lives or businesses, that they need to know about and account for? 
Does your website include, or have a framework for including or gathering user-generated content? This will usually come in the form of reviews, but there are other forms of user-generated content. The types that are appropriate will depend on your business, but you should be including some. 
Have you used your site to tell your customers everything you wish they knew? Sometimes, there's a lot that customers can do to help any given business owner do a better job for them. And there's things they do that actively make the work harder and more expensive. 
And as you think about all these things, remember these two points:
Customer-facing (CF) content that sells or answers questions rarely overlaps with "useful and informative" (U&I) content. There is a Venn diagram that connects the two, and in that juicy middle is where you'll get a lot of your leads. But they are not the same and should not be treated the same,

unless

you are a doctor, dentist, lawyer, or chiropractor. Then the two

are

often the same, for a whole variety of reasons which I won't get into here. That's another article in the making.

As you decide what you need to develop you need to clearly ask yourself what type of content you'd be adding, and make sure that you don't mix and match. No sales calls in your U&I content. If U&I readers want to buy from you they're pretty smart. They'll find the tab that says "home" or your business logo there at the top and they'll click on it. No irrelevant stuff in the CF content, because this is where you

do

really want to buckle down and talk about your electrical work.  
It's not a bad idea to create a spreadsheet to keep track of it all, and to mark which kind of content you've got, what you're adding, what each page is doing, and what you're going to do about it. 

It's for your eyes only. Be snarky if you want.
Obviously you might not create all of this content yourself. You might not create any of it yourself. And you'll need to prioritize it. But it definitely gives you a hands-on idea of the pieces you might want to purchase over the next year. 
If you can't think of what needs to be there and are coming up empty on ideas, you probably will want to consult with a professional content strategist. But doing the exercise yourself will at least help you determine whether or not you need that service.
#7) It will help you prepare for voice search.
You can even voice search on your PC now, and some people prefer to voice type everything they do. And in some cases, Google just spits out another result. But sometimes Lady Google reads the text of a featured snippet to you.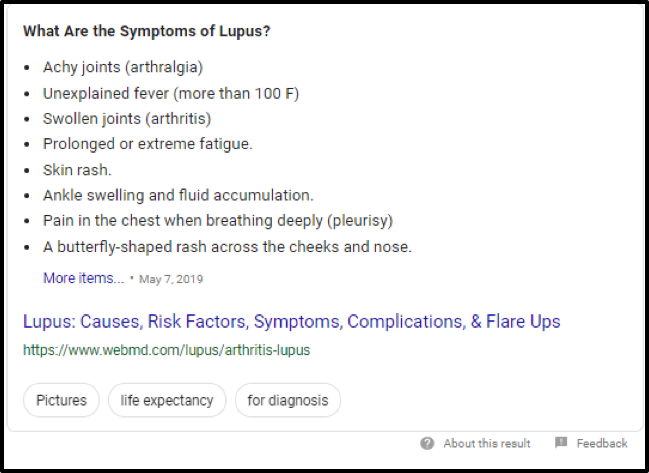 These snippets were already incredibly important. They take up so much real estate on Google now, and often they determine whether you get the click or not. And if the snippet alone was enough to answer the question, well, that's traffic that wouldn't have purchased anything anyway.
But now, snippets are one of the few, intense, concrete ways you can do anything at all to make voice search work for you.
How do you get featured snippets?
You get featured snippets by playing Jeopardy. You phrase as many <h2> tabs or <h3> tabs as possible (sub-headers) in the form of a question. Ideally, you're doing some solid keyword research to figure out which questions your audience is even asking you. 
And then you answer them, with an eye towards creating something that would fit into the box. Sometimes it will be a pithy paragraph. Sometimes it will be bullet points. It doesn't really matter, as long as you deliver the answer to the question somewhat succinctly. 
#8) It will help your site keep up with current trends.
In the 1990s, black and yellow backgrounds with left-hand sidebar navigation were all the rage.
Then we got the standard web format a lot of pages still use, with a clickable logo on the top left corner, menu items across the top, and contact info in the footer. 
But there are a couple of trends right now that you should know about. People are moving away from menu bars and have started creating these scrolling pages that address you directly, asking you where you want to go and what you want to do.
I wasn't a fan at first. I liked being able to find my own way around via the menu, damnit. But now I see the wisdom.
So let's go back to our theoretical electrician to see how this would play out. Right now he has a clickable Eddie Electrician logo on the top of the page. He's got Home, About, Services, Service Area, Contact Us, and maybe Blog across the top. If Eddie was really ambitious he put a bunch of pages on drop-down menus beneath these menu items. Some of these are probably of dubious use or interest to anyone, but let's not worry about that part.
Because if Eddie the Electrician gets a more modernized site, he can put his value proposition right at the top. Then there will be a series of buttons that will take people to things they are interested in right away. They may be in the form of descriptive statements about what he does, like, "Rewiring Homes," or "Landscape Lighting" or whatever. 
He could also phrase them as questions. Are you here to…
Bring your pre-1964 home into the modern era?

Request emergency electrical repairs?

Wire your new construction home?

Wire or rewire your business?
Or whatever. People can then click on those buttons and go to a page that's relevant to them. If he's done everything right, they will in fact be hyper relevant to them. Talk about a way to maximize conversions! 
And for those who want to skim a bit more before they make a decision, they can just scroll. Staying on the same page a little, or a lot, longer, getting more invested. Lower bounce rates. And, of course, there will be a way to get to the U&I content too, but for the most part the flow between the U&I and the homepage goes in the other direction. 
People generally find the U&I first (if it is U&I), and either subscribe to your newsletter or flow to the home page from there. People who click their way to the homepage are probably ready to start talking about buying some service. They're probably not there by accident.
#9) It will give you the chance to catch technical difficulties.
You probably won't be able to fix the technical difficulties unless you know a lot about the backend of websites, technical SEO, or website security. 
But websites break, get hacked, get spammed, and turn slow, all the time, for no discernable reason other than: they're computer things. And computer things get cranky.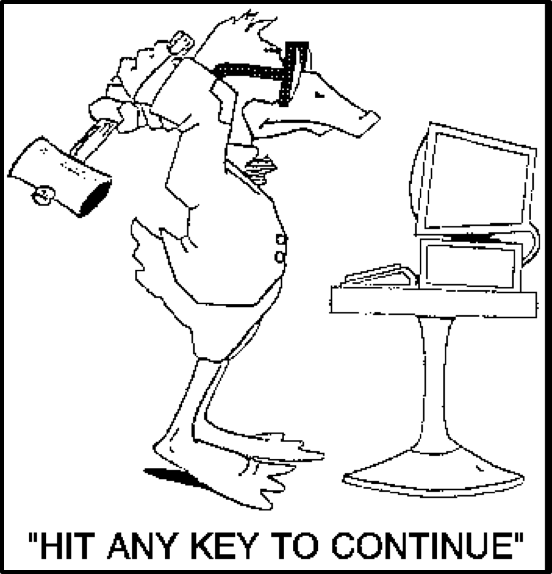 But you don't need to be a technical genius to understand the user experience (aka UX or CX). If the UX is crappy because it takes the site over a minute to load, then you need to get someone on the business of addressing that.
Check your site on your phone and on your computer and on your PC to see if there are problems that only show up in one spot or the other. Hopefully by now you've gotten on board and gotten yourself a responsive website. If you haven't, holy crap, get someone on that.
Time to take action.
Your personal website audit should take place at least once a year. Keep your audit spreadsheet close. Have pen and paper handy to note issues that don't neatly fit on the sheet. 
And then make some decisions about what you find.