Non-Traditional, Creative Marketing Approach Helps a Longstanding Dental Practice's New Location Increase Patients from 0 to 95 Per Month
Springtime Family Dental Care, LP is a premier San Antonio dental practice. For over a decade, Springtime Family Dental Care branched out with new locations to offer patient-focused care to patients in the greater San Antonio area. With hopes of ramping up a brand-new location and elevating the brand, Springtime Family Dental Care sought the guidance of Admen to develop a creative strategy to bring the community together and increase patient acquisition.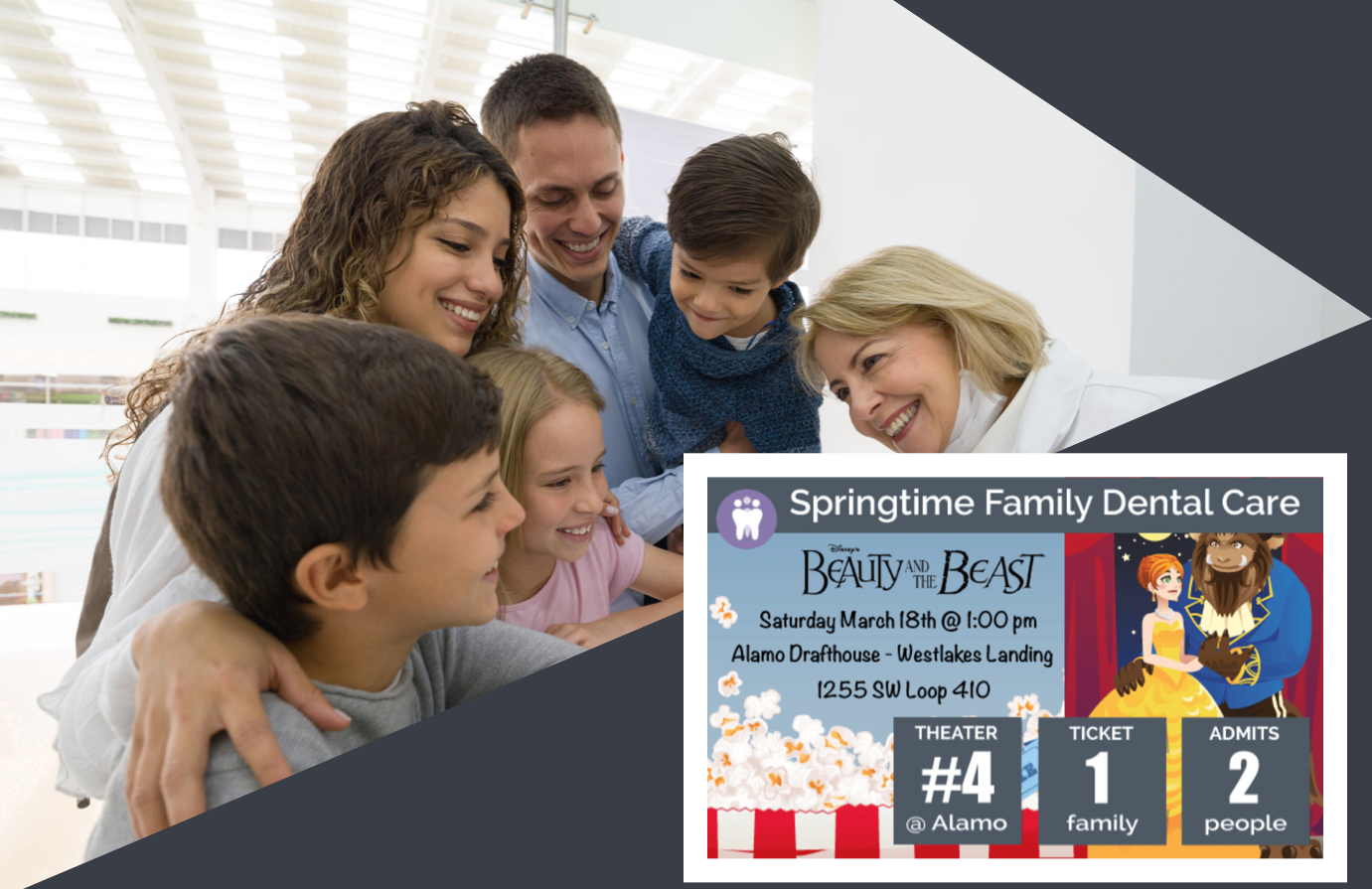 Despite a longstanding brand with plenty of awareness in existing locations, Springtime Family Dental Care wanted to augment its strategy to attract patients to its brand-new location and build a sense of community.
Springtime Family Dental came to Admen for a creative, non-traditional approach to gaining new patient leads and boosting awareness of the new location in the local community. The approach included an ingenious "Meet the Dentist" strategy.
Springtime Family Dental needed an innovative approach to catch the community's attention and get to know prospective patients. When the new office opened, Admen made the decision to rent out two local AMC theaters for the Beauty and the Beast premiere and gave patients, mostly mothers and children, free tickets.
The event was promoted via radio remote and people had the option to pick up tickets at the dental office's new location, where they were treated to a barbecue, bouncy houses and slides for kids. While picking up the tickets, the prospective patients had an opportunity to meet and interact with the dentists and dental staff. The entire community came together and built meaningful connections. Dr. Izzadoust introduced herself at the beginning of the movie as well, giving the theatergoers a chance to meet her in person.
This "Meet the Dentist" approach was a unique way to bring the community together. No one in the area had seen anything like this, especially with the addition of social events like a barbeque. As a result, many of the theatergoers became instant patients.
Following the campaign, the office had new patients and bookings ahead five or six weeks. Overall, the practice had 75 to 95 new patients per month, on average. From zero patients in a new location, the practice grew quickly to a thriving office with an influx of new patients and a well-known presence in the local community.
Without this approach, it would've been more challenging to get attention for a new practice in a competitive area like San Antonio. Utilizing some creative thinking, Admen was able to make Springtime Family Dental a household name and a highly sought dental practice for the residents in the area. Admen became more than a marketing agency, but a friend of the practice.
new patients bookings ahead
---
"I've been working with Admen for several years, and they have been a breath of fresh air when it comes to SEO and marketing. They listen to my concerns and solve problems or come up with new ideas to reinvigorate our marketing strategies. I have always felt that marketing each of our locations as a separate entity would be better.
Admen came on board, they did not try to rename and brand all areas but instead came up with a strategy to keep what I wanted but optimized our marketing with 'outside the box' ideas."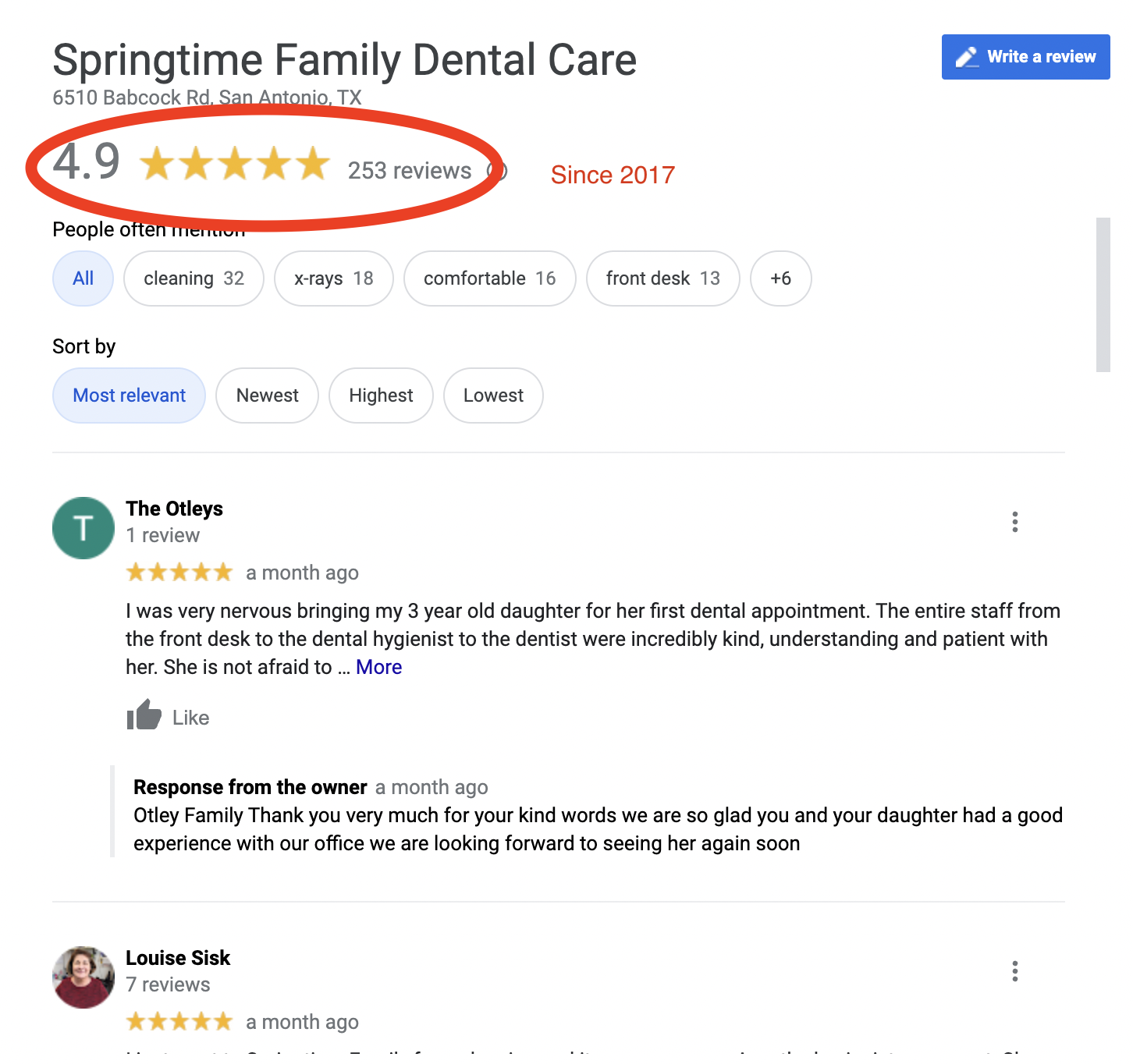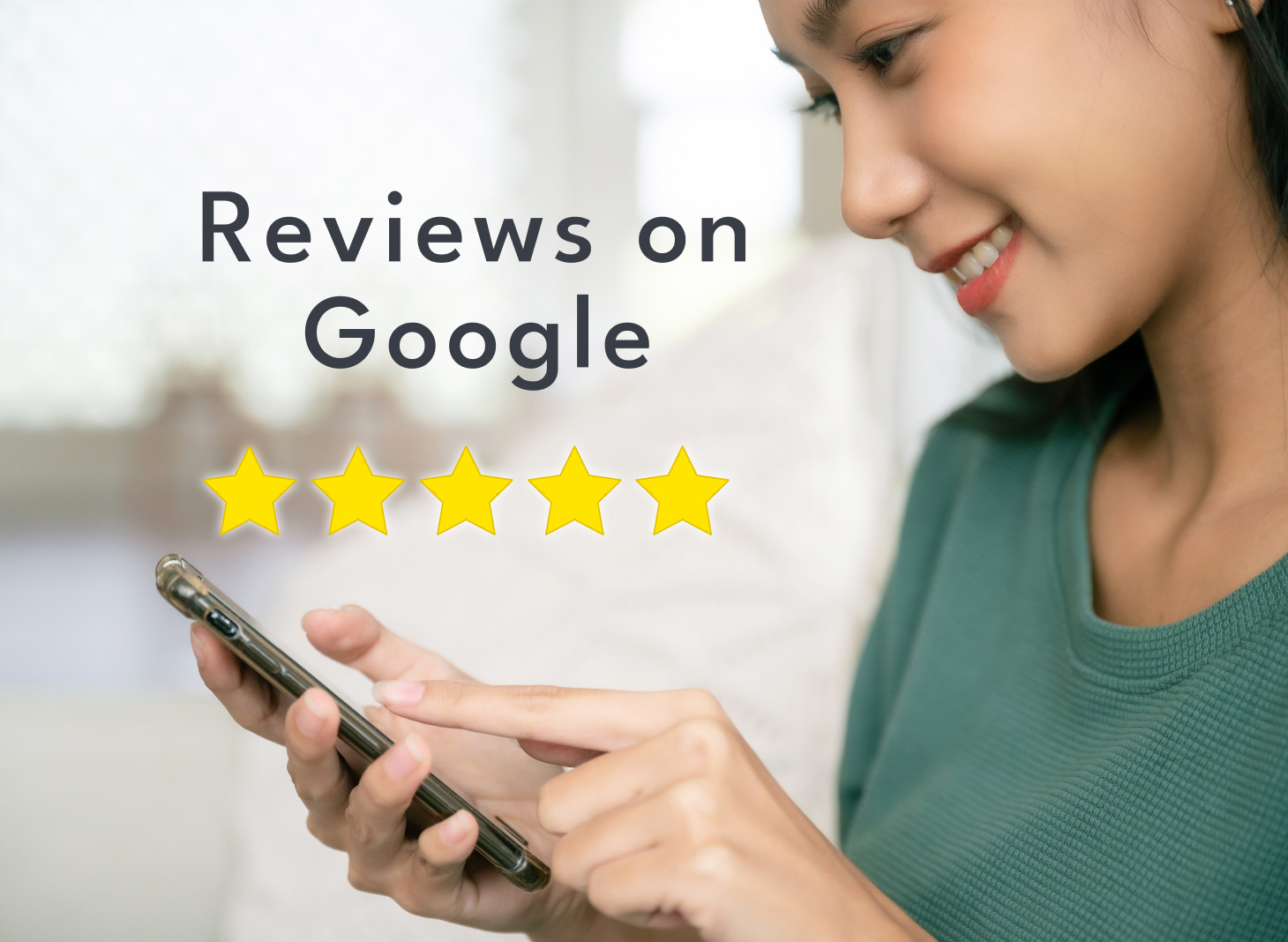 Search Keywords:
Springtime dental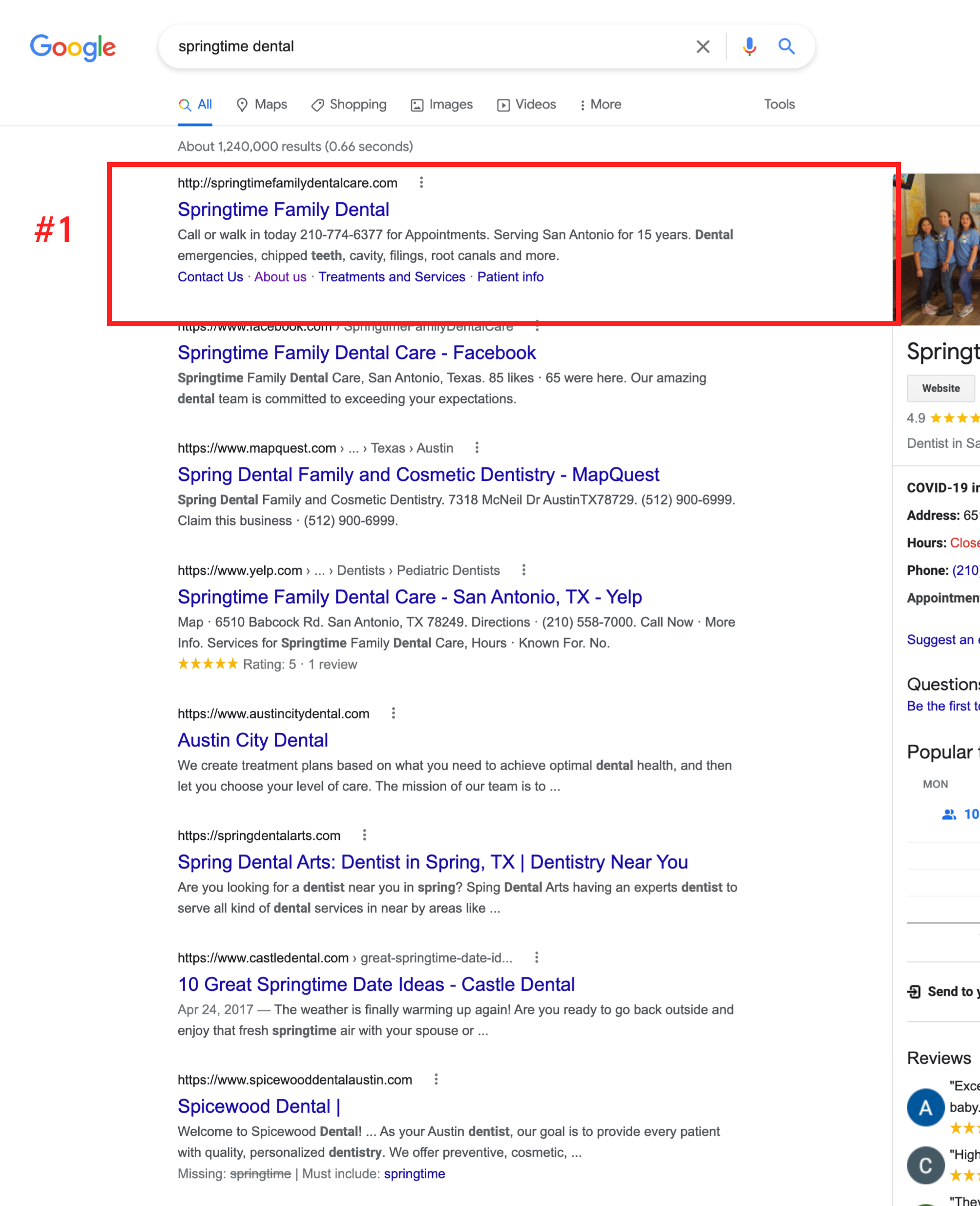 Search Keywords:
Family dentist spring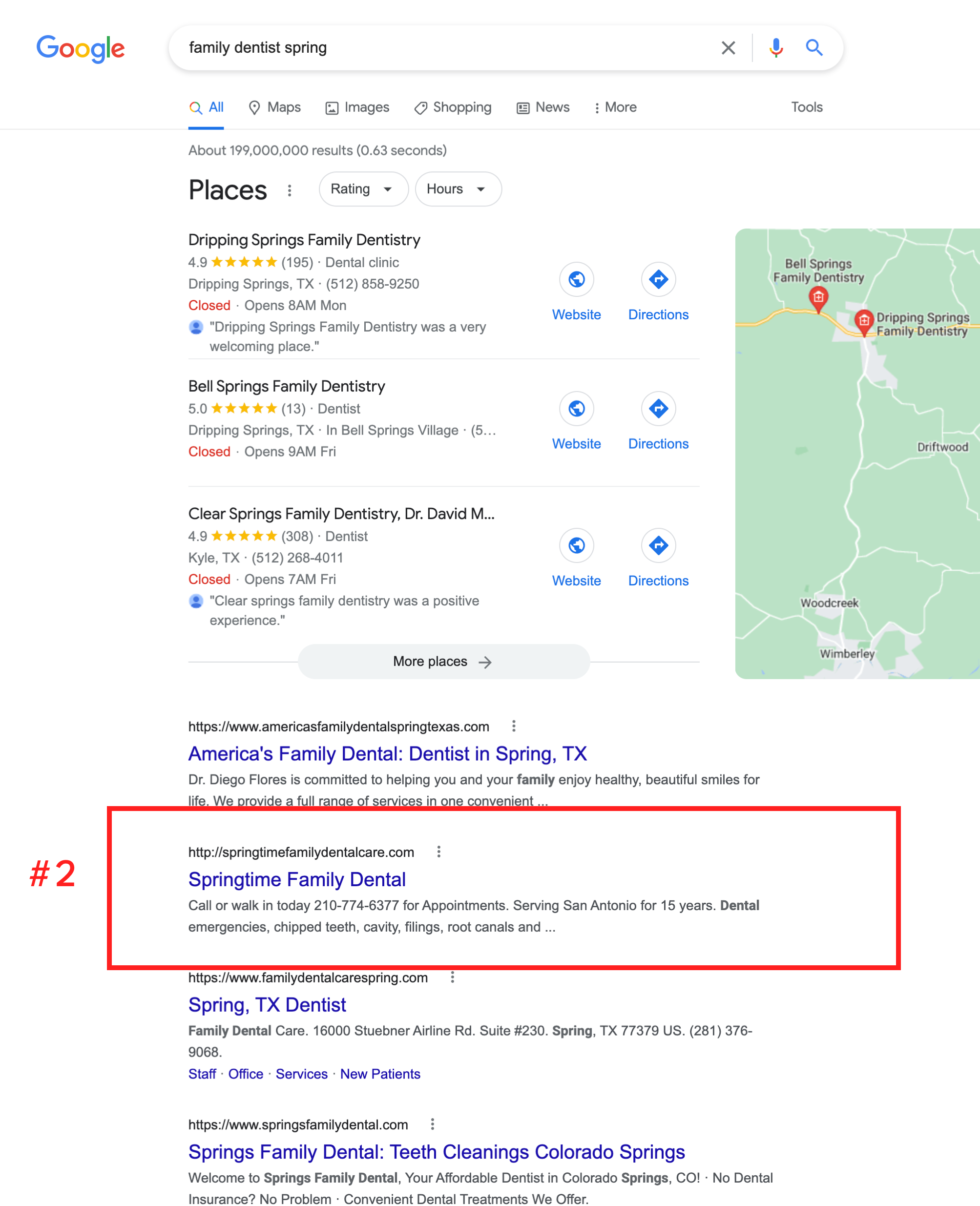 Search Keywords:
Dentist 78251